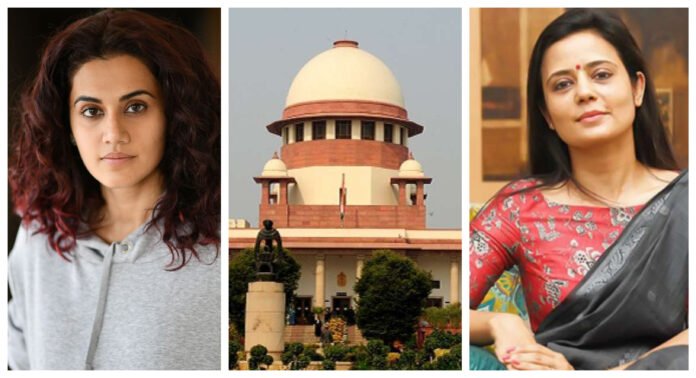 A Supreme Court bench headed by Chief Justice Of India Sharad Bobde left the nation stunned as it asked a rape accused if he would marry the survivor, whom he had been raping repeatedly since she was in ninth standard.
However, the accused, who is serving as a technician in Maharashtra State Electricity Production Company Ltd, told the apex court that he can't as he is already married. On learning about his marital status, the SC told him to seek regular bail from the concerned court in his case.
Needless to say, the citizens were shocked to learn about the court's verdict and many netizens including Mahua Moitra, Taapsee Pannu, Atul Kasbekar, Prashant Bhushan and Sona Mohapatra, among others, vented out their anger on Twitter.
Mahua Moitra wrote, "Marriage is not the institutional deliverance women are seeking from the Supreme Court. Women and girls are making their rightful claim to justice. Well said, @vrindagrover. SC- please stop asking rape accused to marry victims.
Taapsee wrote, "Did someone ask the girl this question ? If she wants to marry her rapist !!!??? Is that a question !!!??? This is the solution or a punishment ? Plain simple DISGUST!"
Sona Mohapatra tweeted, "Oh! My bad. Yes, that was indeed the question the SC judge asked yesterday. No matter what the context & BG was, the question & its implications are all kinds of wrong & disgusting."
Atul wrote, "I honestly cannot fathom this warped form of 'justice'. Whatsoever Who can possibly have any logic as to how this can be any sort of solution?"
Here's what others had to say